TI-99/4A Desktop Theme V4.0

Updated 6/10/99 (V4.0). Thanks again to Cyber Taco for more improvements! Most recent changes:
* Renamed icons to more meaningful names.
* Changed "Program Crash" sound from Alert to Uh-Oh! (I just had to ;-) ).
* Set Ringin and Ringout sounds to standard Windoze ding sound.
Cyber Taco updated made with version 3.0:
* Implemented the fixes that applied to the last file.
* Rigged most of the files to go into a subdirectory of the Themes directory, so they can stay seperate from the general mish-mash usually seen in a person's themes directory. Only the .theme file goes directly in the themes directory, the rest goes into Themes\TI-994A.
* Changed the default window color from bright white to light grey, to reduce eyestrain.
* Changed the screen saver from none to Flying Through Space.
* Changed the good TI beep from being the Menu Popup sound to being the Menu Command sound.
* Set the cursors to go with it to a pleasant 3D look with animated hourglasses.
* Removed long file names on files that fit the Dos 8.3 format anyway.
* Packaged the theme into a self-extracting zip. The theme selector runs after unzipping the files, with the TI theme sitting in the preview window.
* Changed the icon in the self-extractor from the default ZipMagic one to a cool little TI icon.
Updated 2/24/99 (V2.0). Thanks to the assistance of Curt Raymond, the icons have been changed so that their backgrounds are now transparent.
Several of the WAV files have a 'hollow' sound to them- this is the result of some problems that I've been having with some of my software. I hope to change this if I get the problem fixed or someone is willing to donate some TI WAV sounds.
If you can help with this problem, please contact me at

[email protected]

.

I plan make improved versions of this theme. If you're interested, subscribe to my newsletter- I'll make mention of it there when I do.

In order to use this theme, you will need to be running either Windows 95 or Windows 98. You will also need to use Microsoft Plus! or another program which can load themes.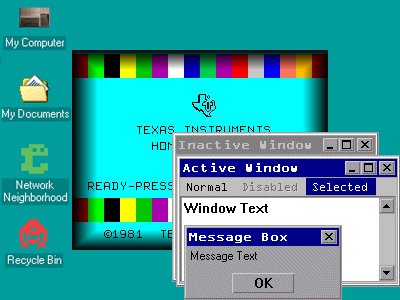 Download The Theme:
Download the TI-99/4A theme V4.0 -217 KB
---
Go to the Windows 95 startup screen page.
Home | Site Map | Search | Contact/E-mail | Link To The HCP | FAQ | Newsletter | Privacy
© 2013 [email protected]
Texas Instruments, TI, and TI-99/4A are all trademarks or service marks of Texas Instruments Inc.
Items on this non-commercial site are presented for reference/nostalgia purposes only.
Texas Instruments has granted written permission to [email protected] to post 99/4A documentation on this website.
The owner of this site does not guarantee or necessarily test any of the programs or files available for download from the site. Downloading and installing any files is done at your own risk. If assistance is needed, please contact the program author.