---
The Texas Instruments
Speak & Spell
Description:
Children's educational toy which plays 5 spelling games. Utilizes speech technology.
Date of manufacture: 1978 (per copyright on face)
Power: 4 C batteries, or 6 VDC input (on right side of unit)
Sound Output: Built-in speaker on face, or headphone jack on left side of unit (right side on later models).
Display: Vacuum Flourescent Display (VFD)?
Keyboard: Raised buttons on earlier models, membrane on later
Speech Chip: TMS5110 (TMS5220)
| | | |
| --- | --- | --- |
| | | |
| Membrane Keypad | Compact Speak & Spell | French Speak & Spell |
| | |
| --- | --- |
| | |
| Raised Button Keypad | Italian Speak & Spell |
I have two versions of the S&S- the one with the membrane keypad as well as the one with the raised buttons. There is apparently a compact version that has only the keypad and voice, but no display. Like the Speak & Math, the larger models both have vacuum flourescent displays, and there is a cartridge port inside the battery compartment where you can plug expansion cartridges in.
Dave Warren had sent me a scan of a February 1983 'Computers & Electronics' article by Larry Dighera which details a project in which you interface a Speak & Spell with a Timex Sinclair computer. I've compiled the jpg scans into a document format so that you can download the entire 1.01MB file talkcheap.pdf.

Here are some items from the article (yeah, I know that it's the same as the ones on the Speak & Math page!):
The Speak & Spell consists of a pushbutton keyboard, microprocessor, display, ROM (contains speech data), voice synthesizer, and loudspeaker.
The microprocessor communicates with the speech units through a 6-line bus with CNTL 1, 2, 4, and 8 forming a 4- bit data bus and PDC (processor data clock) and CS (chip select) forming a control bus.
The ROM contains the binary-coded speech data for synthesis of the spoken word. Each word has a specific starting address. When it is desired to output a particular word, the ROM address of the beginning of the word is sent to the voice synthesizer in five 4-bit nybbles preceded by the LOAD ADDRESS. The data is then clocked into the voice synthesizer by the PDC signal. Once the 5-nybble word address is loaded, READ ROM and SPEAK commands are sent to cause speech to be generated. If the BUSY SPEAKING? command is now sent, the voice synthesizer will raise the CNTL 1 line high until it finishes vocalizing.
There's a free Speak & Spell simulator available for Windows. It's called SASS, and although it's a pretty large file, I thought it was pretty cool and I'd recommend getting it. You can download it on the SASS Homepage. Update:The SASS site has been down for some time now. Here's an alternate download link: http://www.zophar.net/sas.html
There is also a cool online Speak & Spell simulator at http://www.speaknspell.co.uk/
There is also a second one at http://www.kevinstonge.com/?projects/speakandspell
Want to own your own Speak & Spell? Many people email me asking where to get one, and the only existing source is to check your local thrift stores oe Ebay.
If you want to check on ebay, click here
to search forSpeak & Spell
.
You can download Speak & Spell sound samples as well as a complete word list here.
Buy a Hack & Spell Sticker: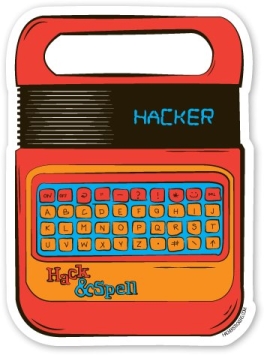 View a vintage Speak & Spell TV commercial from the 80's featuring Bill Cosby:
Download This Video
View another Speak & Spell commercial which shows that Speak & Read and Speak & Math near the end:
Download This Video
Speak & Spell Commerical Which Shows The Dataman, Spelling B, Little Professor, and Others At The End:
Download This Video
---

Download the Speak & Spell Manual- 606KB PDF format


This is a 2 page Speak & Spell pamphlet with a description and specs:
Speak & Spell Pamphlet - 619KB PDF
This interesting article is about the design history of the Speak & Spell:
Design History of the Speak & Spell- 2.2MB PDF

The Smithsonian Institution has a web page with some information on the Speak & Spell with some photos of a white and orange preproduction unit that they say was built for the Summer Consumer Electronics Show.
Visit the Smithsonian Institution Speak & Spell Page

The Smithsonian Speech Synthesis History Project also has some interesting information about the Speak & Spell

Return To The Texas Instruments Educational Toys Page.

---
I'm always looking any more information on the Speak & Spell. If you have anything that you think would be of interest, please contact me at [email protected].
Texas Instruments, TI, Speak & Spell, Speak & Math, and Speak & Read are all trademarks or service marks of Texas Instruments Inc. This site is not affiliated with Texas Instruments.

Items on this non-commercial site are presented for reference/nostalgia purposes only. If you are an author or owner of an item on this site and wish it removed, please contact me at [email protected]
Texas Instruments has granted written permission to post 99/4A documentation on this website.
HTML source and original content © 2013 [email protected] / 99er.org
---
Home | Site Map | Search | Contact/E-mail | Link To The HCP | FAQ | Newsletter | Privacy