Scans from the November 1983 99er Magazine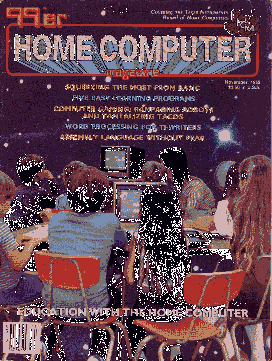 These articles were scanned in and converted to files (.MAX format) using PaperPort software. To view them, you will need to download and install the FREE PaperPort Viewer.
Squeezing The Most Out Of TI Basic, by John T. Dow
Nine pages, scanned in black and white to save on file size. - Article by author of the Dow flight simulator. Discusses the TI basic language and tricks he used in his program.
Click here to download a zipped scan of these pages. (1,918KB)
Interview the Dale Osborne, TI Software Operation Manager
Two pages, black and white. Discusses TI educational software.
Click here to download a zipped scan of this article. (423KB)

Funware Advertisement
Two pages, color. Photos and descriptions of 5 Funware titles: St. Nick, Rabbit Trail, Ambulance, Pipes, and Driving Demon.
Click here to download this zipped scan. (630KB)

Items on this non-commercial site are presented for reference/nostalgia purposes only. If you are an author or owner of an item on this site and wish it removed, please contact me at [email protected].
---
Home | Site Map | Search | Contact/E-mail | Link To The HCP | FAQ | Newsletter | FREE 99er Web Site | FREE 99er Email | Privacy